Aesop Rock x Blockhead

Garbology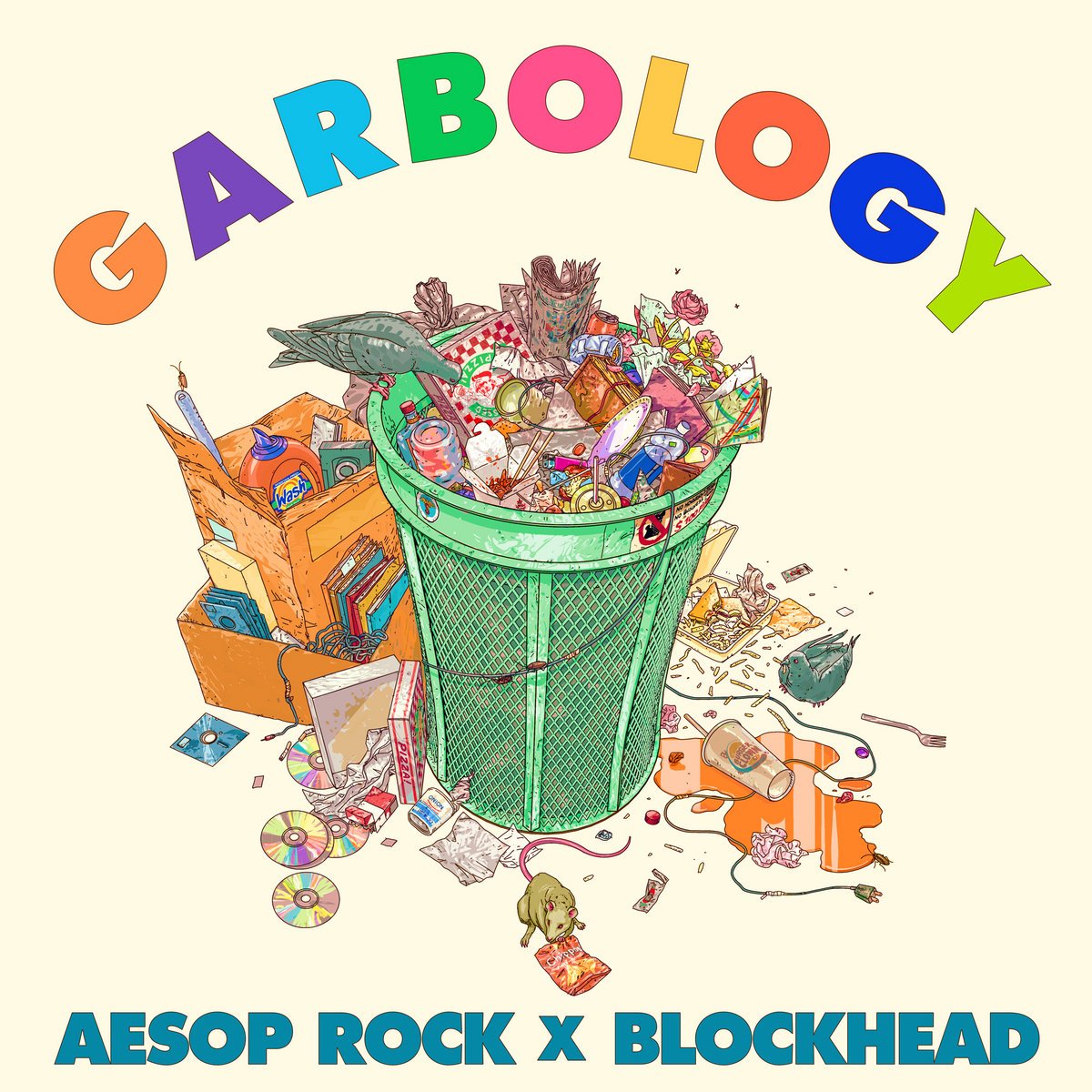 by Will Cummings

Garbology is the brand-new album from underground rap legend Aesop Rock and underground producing legend Blockhead, who have an extensive history, originally performing as 'Aesop Rock'. Yes, the two abstract rap pioneers were once a tandem with Blockhead tackling most of Aes's early production, but Aes has handled his own on his solo albums since 2012's Skelethon and to last year's excellent album Spirt World Field Guide. Those two albums, plus my personal favorite of the trio, The Impossible Kid, are among the best rap albums I have ever heard. During this time, Aes has done several collaborative group albums, most relevantly and probably the best being Malibu Ken where he teams up with Tobacco. Aes has been prolific, but Blockhead has been more so, dropping about an album a year and collaborating with the likes of Billy Woods. In 2021, they have finally reunited for a full album.

With Aesop Rock, one of my favorite rappers, there are only a few worries I have when a new album release: Will there be any bad choruses? not really on this album. Will the production be consistently excellent? it's mildly underwhelming on this album. What has Aesop been reading about? That last question is instrumental to the listening experience, as Aes has detailed a large part of his writing process is reading National Geographic among other sources and highlighting things that interest him. With his last two albums, nature and wildlife have been dominant themes while Malibu Ken varied from a satanic murder to the Pittsburgh Eagle Cam Incident (look it up). Garbology had me excited, but I also have been a little iffy with Blockhead's productions, granted my only exposure is some of Aes' earlier albums. Lots of old school DJ samples and bass-line driven boom bap. It just didn't stick with me in the same way Aes's own production would on his future albums.

Garbology sounds like a pleasant marriage between these two styles. "Legerdemain" and "Oh Fudge" are clear descendants of their previous work, while the rest is maybe a less luscious approach to what Aes has been doing. There are no bad instrumentals here, but there isn't anything as grand or atmospheric as "Fixed and Dilated" or "Defender" from Aes's recent work. "Wolf Piss" rubs me the wrong way however, but I blame it more on a strange similarity to "Tone Deaf" by that other white rapper.

The rapping is great, quotable, and just as dense as ever. Aesop don't miss. He's still reading his Nat Geos, but he's also focusing on his misanthropy, how far removed he is from normality, and the supernatural world he inhabits. He's still feeding deer from his hands and keeping close relationships with corvids. He also gives a shoutout to his famed cat Kirby, saying "Got a cat named Kirby, she can rap good too," on standout track "Difficult". On a personal note, I named a cat Kirby because of Aes. T here's also a really wholesome moment on "Abandoned Malls" where he teaches a little girl how to ollie on a skateboard.

My favorite Aes moments are when he drops the verbosity and abstractions for blunt lines. Perhaps the best example of this is on Legerdemain when he simply says, "I found something in the woods I wanna show you." That is the scariest thing Aesop Rock could ever say.

To close, here are some nice quotes from the project.

"Today a mall cop told me I should get a life" – "Legerdemain"

"Cut through a graveyard just to cut through another graveyard just to cut through another graveyard" – "All the Smartest People"

"I hate praising net worth of leg work, I hate ceding all power to the extroverts" "I'm gone fishing at the risk of being overlooked" "You could bear witness to the second first step" – "This is Not a Wizard"

It's pretty good, I like this album.