iluminati hotties

Let Me Do One More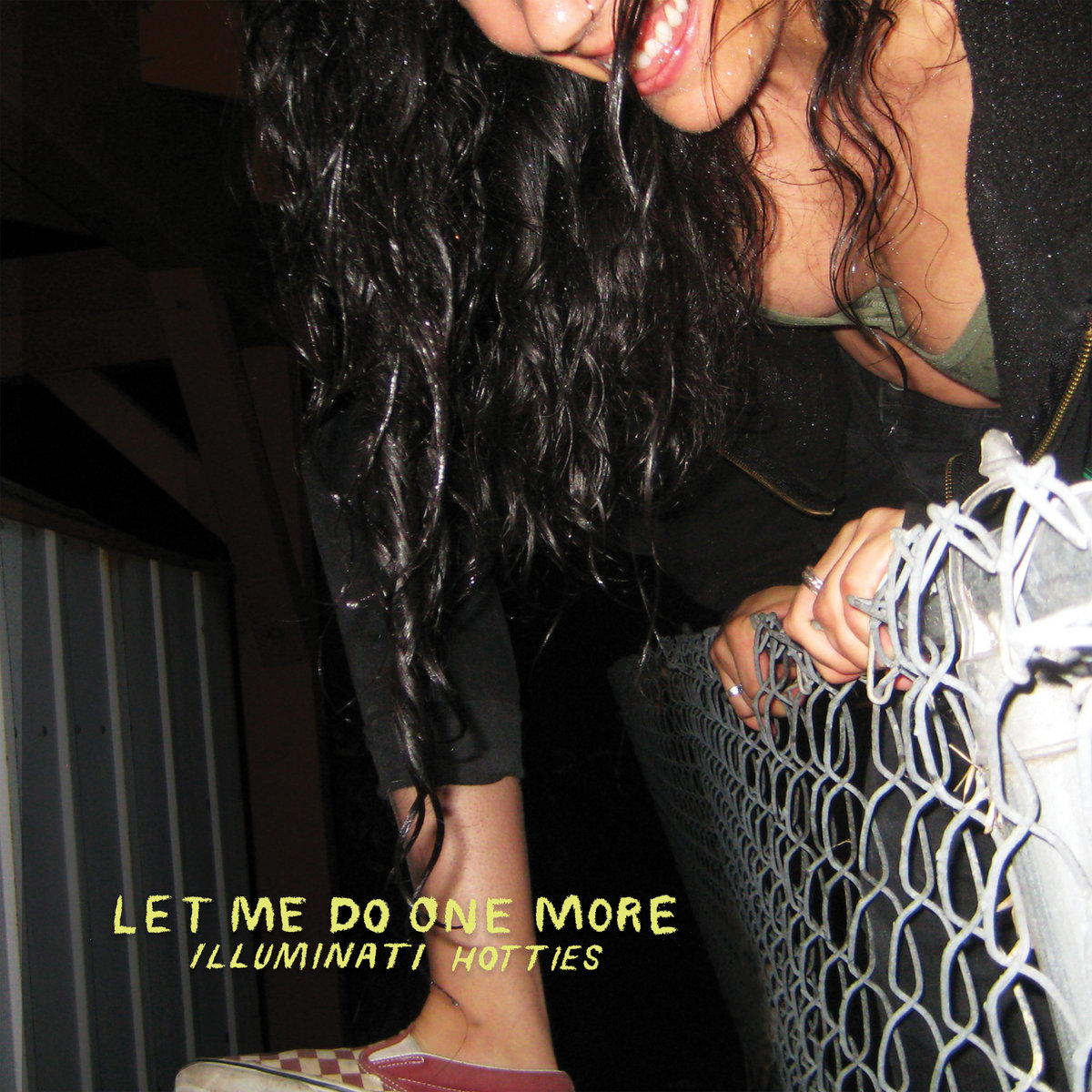 by Emma Brown

iIlluminati hotties' new release Let Me Do One More is about relationships. Whether that be commentary on late-stage capitalism or hookup culture, LA producer and frontwoman Sarah Tudzin's third album is incredibly honest without being overbearing. Listening to this album feels like listening to your own thoughts. Each song has a different sound to reflect its lyrics while maintaining a cohesive flow, the perfect stream-of-consciousness soundtrack. It's a creative piece, pioneering the genre of 'tenderpunk', according to Tudzin. I haven't heard anything quite like it, but there's a reason why the group is LA's newest indie rock darling. The group will have you saying 'let me do one more' on repeat.


We begin with "Pool Hopping", an easy summer listen as the name implies. It's a very upbeat take on hookup culture. Tudzin has no illusions about her actions, but decides to have fun testing the waters anyways. In a rather abrupt transition, "MMMOOOAAAAAYAYA" jumps and jerks you around like you're watching live in a crowd of Marxists. It's a cocky head tilt to the mainstream that invites you to join in. We float on down from anarchy to shadowy alt-rock grunge with "Knead". This is a sensual song from the female gaze about male desire, the perfect theme song for your friendly neighborhood tease.


Things slow way down on "Threatening Each Other re: Capitalism". This is drained, lethargic, and disenfranchised - the sexy side effects of capitalism. The analogy of a corner store selling spit is stings like a side stitch after laughing. Truth hurts, I guess. Next up is "u v v p (feat. Buck Meek)". It's forlorn in the face of modern romance, differing from the more care-free "Pool Hopping". Buck Meek drives the point home with an ironic "cowboy-walks-off-into-the- sunset-with-his-girl" monologue. This, coupled with late 50's rockabilly influences, leaves us asking one question: What ever happened to the love you see in those old movies? Ethereal and disconnected "Protector" continues down a similar route. Tudzin couldn't find what she was looking for in this disappointing partner. She woke up from the dream and is now utterly disinterested in the reality.


Raring back into focus is "Joni: LA's No. 1 Health Goth". Love her. Hate her. Want to know her skincare routine. It's Joni: the epitome of a punk Cool Girl. Goes to hot yoga and reads political theory, all while looking effortlessly disheveled. "She's inaccessible and unattainable," yells the chorus. This one is definitely going on my playlist to get me out of bed in the morning. "Kickflip" and "Toasting" round out this section of the album. The former is repetitive, rhythmic, and bored to death with complacency. The latter? S'more bittersweet daydreams. Alex Menne joins Tudzin halfway through the song, sounding like an imagined duet. It's cute and 37 seconds long (about as long as it takes to toast your favorite toaster pastry).


How do you love? In this ode to a flawed, avoidant attachment style relationship, "The Sway" explores the group's producer origins. We also hear some more indie instrumentals on "Cheap Shoes" before closing out on the quiet sucker punch that is "Growth". This sounds like holding yourself on the floor of your empty childhood closet. Knowing that all the work you did as a child to make yourself even smaller didn't mean anything. They didn't care then, and they don't care now, only it feels much more lonely as an adult. There's a sense of voicelessness that's reflected well in Tudzin's barely audible murmur. Her relationship to the world, others, and herself come to life within this album in the most real, uncontrived way possible. I hope the down-to-earth nature of the group's music continues into what is no doubt their hotly anticipated next album.